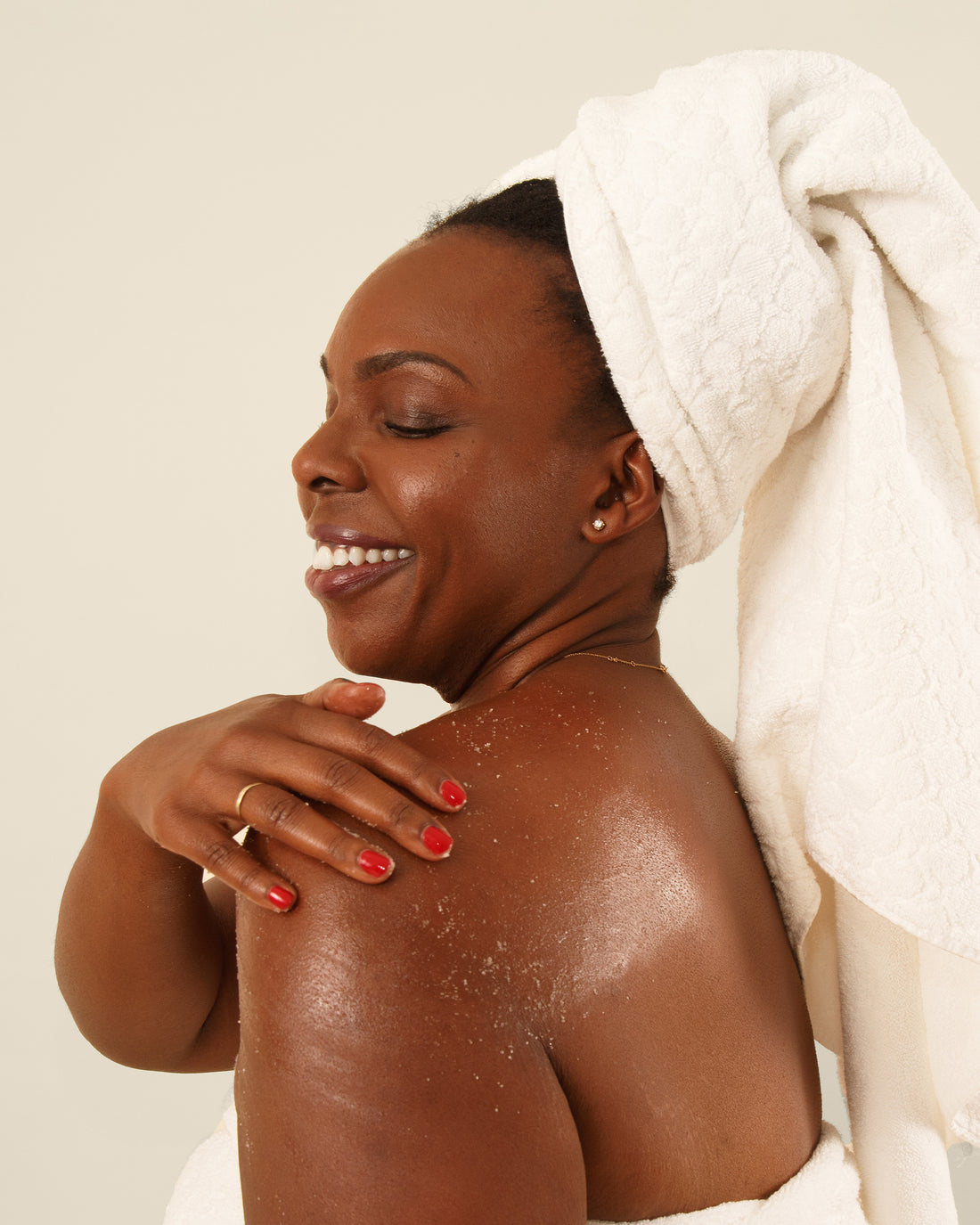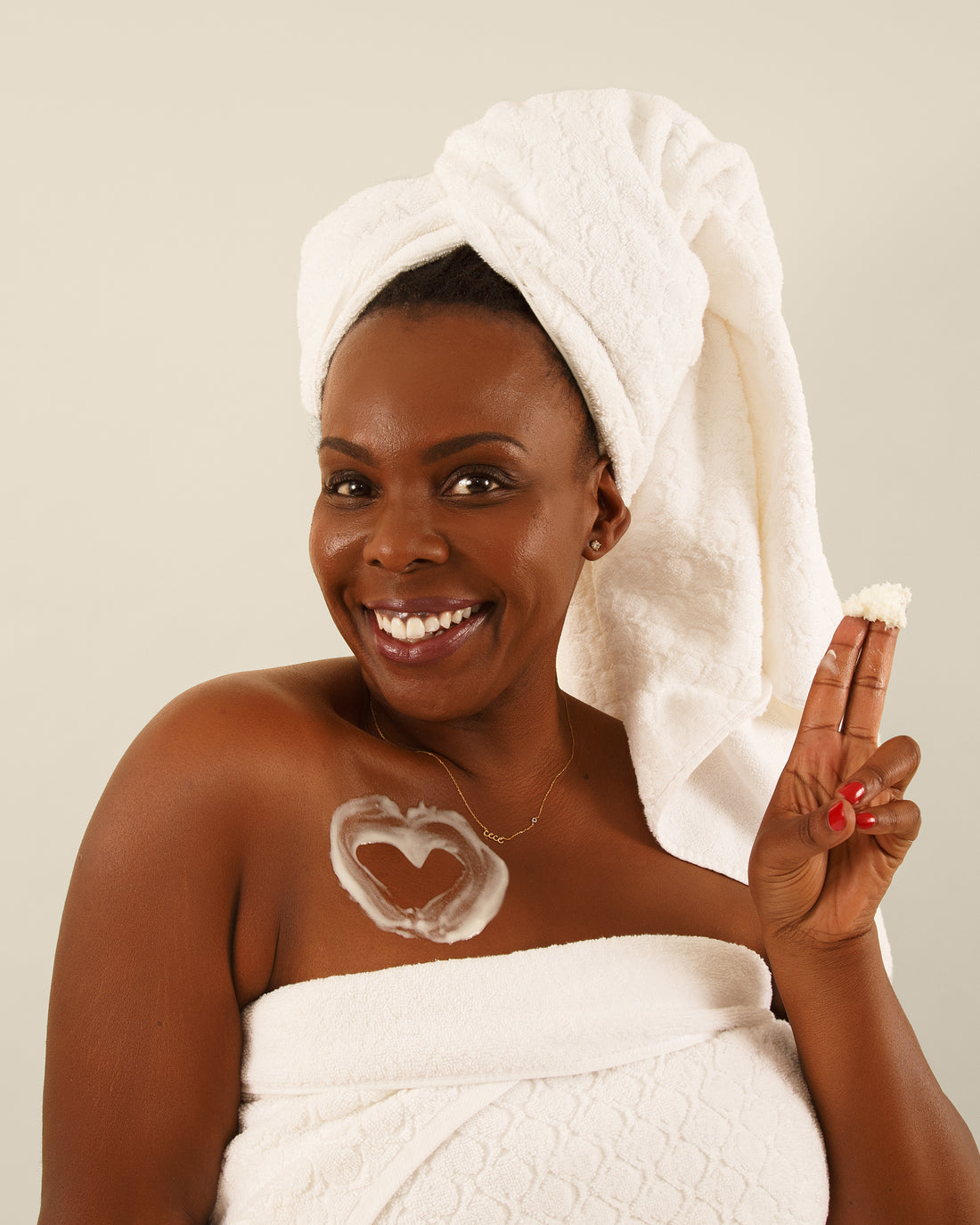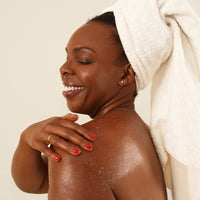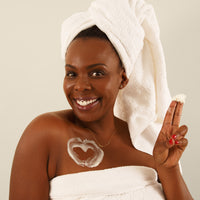 Introducing the Cocoa by CeCe Stocking Stuffing Duo, a delightful pairing of our best-selling Artisanal Doll Butter and Self-Love Scrub in travel-friendly sizes. Perfect for on-the-go pampering, this duo ensures that your skin remains radiant and nourished, no matter where the holidays take you. Tucked into a festive package, it's the quintessential stocking stuffer for skincare enthusiasts and novices alike.
Step 1: Revive your skin with the Self-Love Scrub
Take a pea size amount of your Self-Love Scrub.  Give your hands a gentle massage, and be sure to exfoliate your palms, between your fingers, and rough spots.  Run warm water over your hands and pat dry. Your hands should feel hydrated immediately.  For best results, lock in hydration with your skin-softening Doll Butter.
Step 2: Soften your skin with Doll Butter
To complete your mini hand facial, following the Self-Love Scrub, immediately massage your skin softening Doll Butter into your hands—you don't need too much; a little goes a long way.  You should feel the long lasting hydration.  For best results, use Doll Butter every single day and give yourself a hand facial 2-3 times per week.
Self-Love Scrub Ingredients: Organic Sugar, Shea Butter, Olive Oil, Cetearyl Alcohol, Squalane, Coconut Oil, Cocoa Butter, Caprylyl Glycol, Phenoxyethanol, Hexylene Glycol, Hibiscus Powder, Rose Essential Oil, Natural Aroma
Doll Butter Ingredients: Aqua, Helianthus Annuus (Sunflower) Seed Oil, Cetearyl Alcohol, Glyceryl Stearate, Butyrospermum Parkii (Shea) Butter, Organic Theobroma Cacao (Cocoa) Seed Butter, Prunus Armeniaca (Apricot) Kernel Oil, Glycerin, Caprylic/Capric Triglyceride, Organic Aloe Barbadensis (Aloe Vera) Leaf Juice, Organic Argania Spinosa (Argan) Kernel Oil, Organic Cocos Nucifera (Coconut) Oil, Rosa Canina (Rosehips) Oil, Squalane Oil (Olive), Organic Calendula Officinalis Flower Extract, Organic Fragaria Vesca (Strawberry) Leaf Extract, Organic Sabdariffa (Hibiscus) Flower Extract, Organic Rosa Centifolia (Rose) Extract, Organic Planifolia (Vanilla) Fruit Extract, Organic Manihot Esculenta (Tapioca) Starch, Cetearyl Glucoside, Organic Rosmarinus Officinalis (Rosemary) Leaf Extract, Tocopherol, Cyamopsis Tetragonoloba (Guar) Gum, Xanthan Gum, Glyceryl Caprylate, Caprylhydroxamic Acid, Citric Acid.