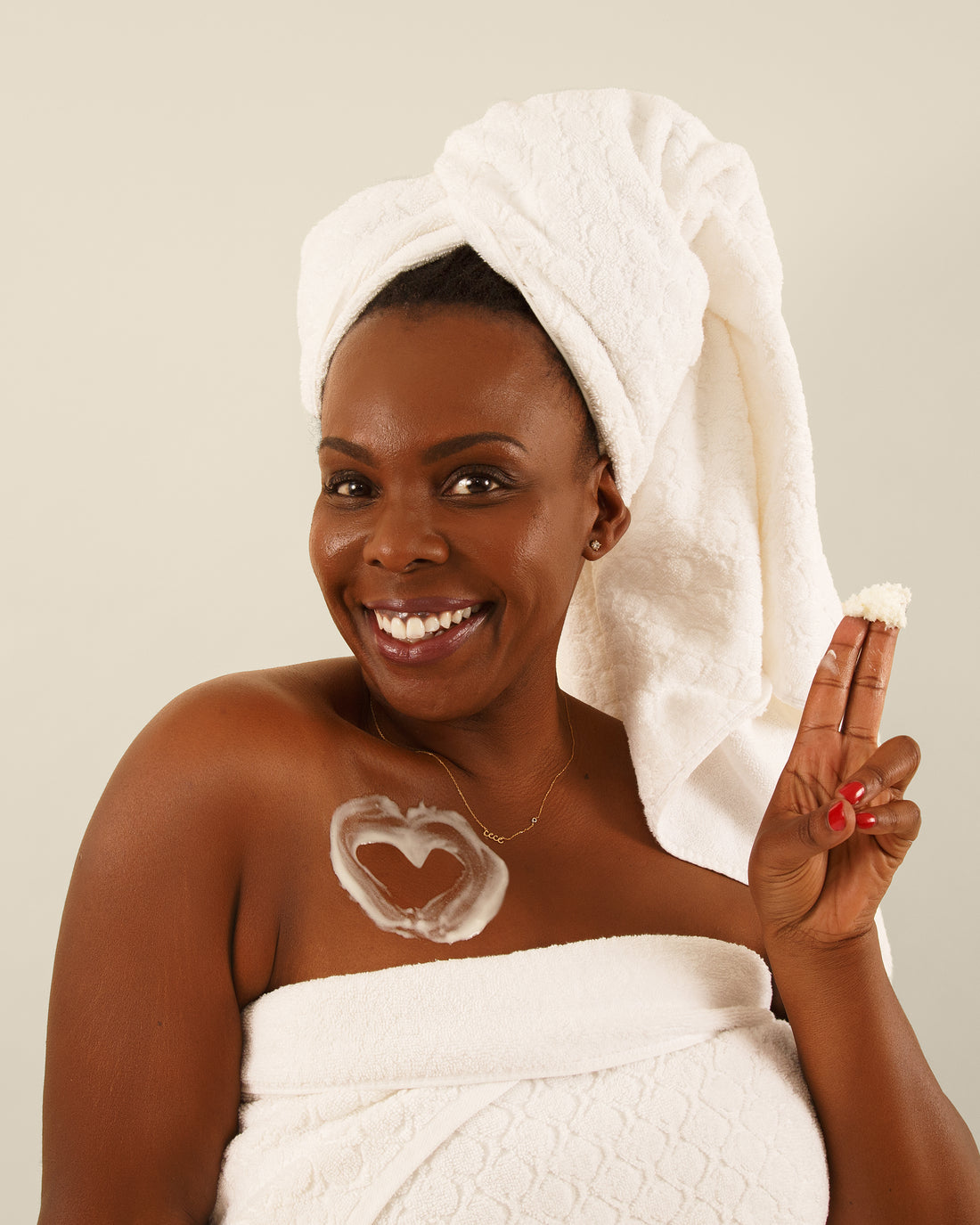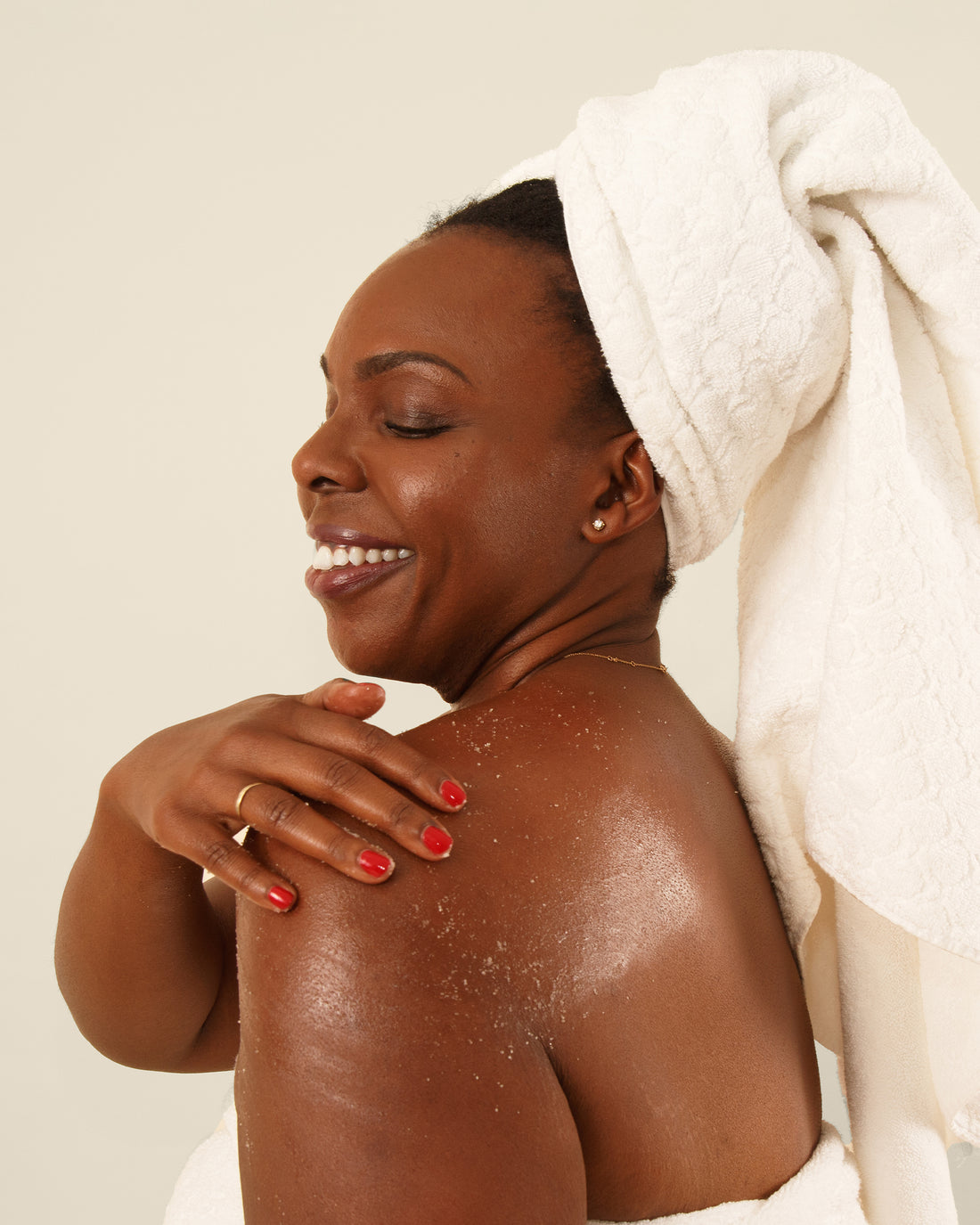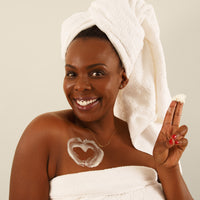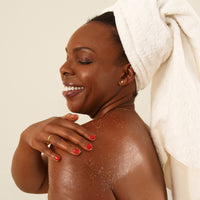 Indulge in the ultimate skin pampering experience with the Cocoa by CeCe Two-Piece Holiday Set. This luxurious duo combines the rich, nourishing embrace of our Artisanal Doll Butter with the rejuvenating power of the Self-Love Scrub. Together, they promise to exfoliate, hydrate, and leave your skin feeling velvety smooth. Elegantly packaged, this set is the perfect gift for those who cherish the art of self-care.
Step 1: Revive your skin with the Self-Love Scrub
Shower or bathe as usual. Massage in a circular motion over wet arms, legs, shoulders, and torso (this removes dead skin cells to reveal glowing skin). Rinse and pat your skin dry.
Step 2: Soften your skin with Doll Butter
Immediately massage your skin softening Doll Butter over your whole body. For best results, use Doll Butter every single day.
Self-Love Scrub Ingredients: Organic Sugar, Shea Butter, Olive Oil, Cetearyl Alcohol, Squalane, Coconut Oil, Cocoa Butter, Caprylyl Glycol, Phenoxyethanol, Hexylene Glycol, Hibiscus Powder, Rose Essential Oil, Natural Aroma
Doll Butter Ingredients: Aqua, Helianthus Annuus (Sunflower) Seed Oil, Cetearyl Alcohol, Glyceryl Stearate, Butyrospermum Parkii (Shea) Butter, Organic Theobroma Cacao (Cocoa) Seed Butter, Prunus Armeniaca (Apricot) Kernel Oil, Glycerin, Caprylic/Capric Triglyceride, Organic Aloe Barbadensis (Aloe Vera) Leaf Juice, Organic Argania Spinosa (Argan) Kernel Oil, Organic Cocos Nucifera (Coconut) Oil, Rosa Canina (Rosehips) Oil, Squalane Oil (Olive), Organic Calendula Officinalis Flower Extract, Organic Fragaria Vesca (Strawberry) Leaf Extract, Organic Sabdariffa (Hibiscus) Flower Extract, Organic Rosa Centifolia (Rose) Extract, Organic Planifolia (Vanilla) Fruit Extract, Organic Manihot Esculenta (Tapioca) Starch, Cetearyl Glucoside, Organic Rosmarinus Officinalis (Rosemary) Leaf Extract, Tocopherol, Cyamopsis Tetragonoloba (Guar) Gum, Xanthan Gum, Glyceryl Caprylate, Caprylhydroxamic Acid, Citric Acid.